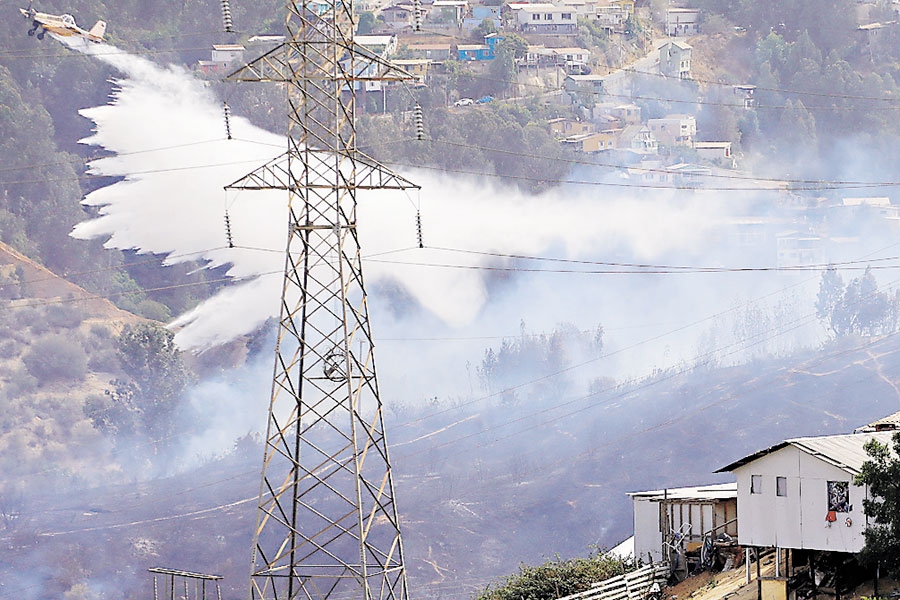 Fires threaten populated areas:
The years starts with 70 wildfire. CONAF activate the "red button"

Two big fires in Valparaíso Region come early a risky season. The central zone is having maximus temperatures around 36°C SOURCE: La Tercera Online. See original note HERE (spanish only). The first 48 hours of this years were marked by fire, preventing a high risk to 2019 related to wildfires. According to Onemi (National Emergency Office) until last night, the Forestry National Corporation (CONAF) counted 66 fires: 12 on progress, 2 on observation, 5 seats, 15 controlled and 32 extinguished. 5 of those were declared the "red alert"; 3 at Valparaíso, 1 at the O'Higgins Region and other at Maule. The fire continuation happens when the central zone faces a heat wave until Friday with possible temperature peaks of 36°C. This risky situation made CONAF activate the "red button", deploying preventing sources worried about dry materials triggering big fires. The software that activates the "red button" runs with "many variables, such as the dry grass dampness, temperature and wind. It give us a percentage. When this is higher than 70% we apply a series of preventive measurements" says the CONAF executive director, José Manuel Rebolledo. These measurements are fire brigades distributions, motorbike patrols, elimination of potentially danger vegetation, and councils to neighbors at places with high risks. The difference about the "button" and the red alert is that the "button" is preventive, and the second is activated when the fire is in progress and threatening houses or protected areas. This prevention measurement is part of the 25% increase of CONAF budget, reaching $53.000.000.000 CLP. Besides the 232 brigades, 2.819 brigade members, 45 aircrafts to help on fire extinguishing. The call is to prevent. ONEMI sub-director, Cristóbal Mena, asked community to have "extreme precaution" and prevent fire seats. The organization recalls that most of the fires are caused by the human. Alarming increase At the Valparaíso Region, two of the most dangerous fires occurred. At Villa Alemana, at least two houses were affected by flames. Air help was required. Resident complain about the water scarcity. The last night report by CONAF informed that the emergency destroyed 43 hectares of forest. At Limonares de Viña del Mar sector during the afternoon, fire extended from the forest to houses. CONAF brigades, firemen and resident try to control the fire. During this season "Fires at Valparaiso have increased 50% and this worries us" recognize Daniel Ariz, Wildfires Prevention Section manager. He also says that the five critics sectors, including Viña, Villa Alemana, Valparaíso, San Antonio and Quilpué, need 420 kilometers of firebreaks; 107 kilometers for Valparaíso and 105 for Viña with low progress. Critic times for Chilean central regions Agro-climatologist Patricio Gonzáles from the Talca University, warns that central regions are "facing a dry and hot phase. It is thought that earth temperature will increase two degrees from this time to 2030. This indicates that from here to 2025, it will be 30% more water loss. Also more heat waves will occur". The short terms situation is also alarming, considering that during the second half of this month we are going to have similar temperatures from the ones in 2017. Consequently, Talca could have more than 38°C temperatures. At this moment we are at a red zone, and fires vulnerability will extend at least until the first half of March" He said. According to the National Meteorological Direction, 10 from 19 meteorological station will register higher temperatures than normal during January and February of 2019.
More in SeguridadExpo 2021
More
Information
National Sales
Margarita Vasquez
+56 9 71354534
Head of International Sales
Marcos Castro

FISA GL-events Chile
+56 2 25307005
+56 9 30129255