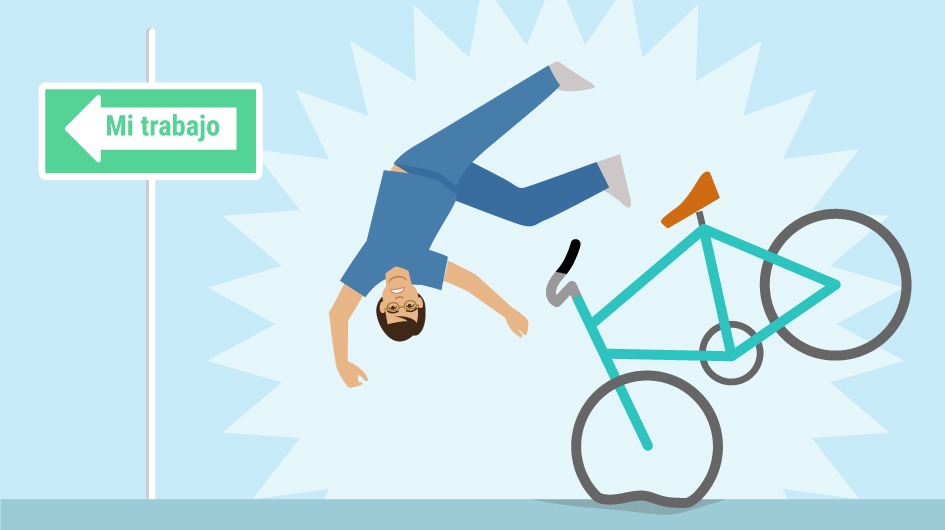 More than 70% of the incidents occur in the Metropolitan, Biobío and Valparaíso regions.
March has the highest percentage in commuting accident

The 40% of the accidents in women happen while they walk to their jobs, on the other hand, in man, accidents are related to fast driving.
Diego Aguirre. Capital Humano, El Mercurio. See original note HERE (spanish only)
When the holidays season finish, the return to daily activities like university, school and work make the entire streets collapse with people taking back their routine. This will happen this SuperMonday where a large expansion of cars will collapse the City.
For this, during March the amount of commuting accidents growth in an important way. In fact, 10% of these occur in March, 6% in February and 7% in September.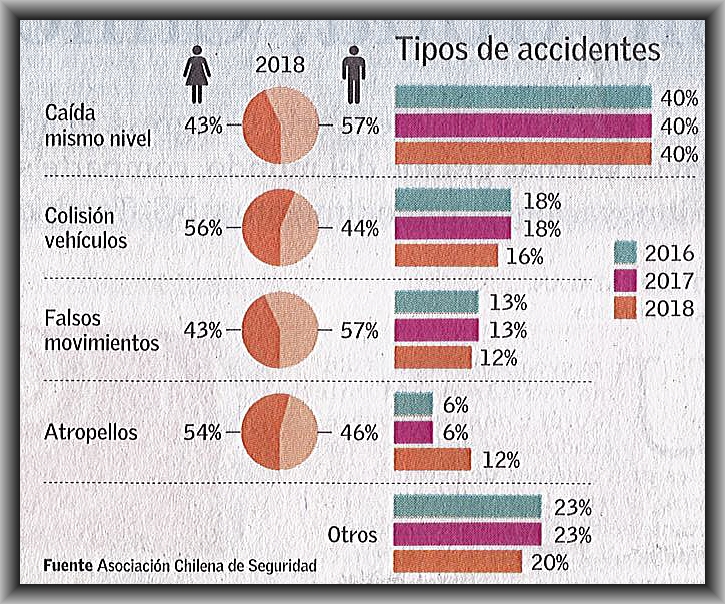 Ricardo Zamora, Sub-manager from the Development and Preventive Plan from the Chilean Security Association, says "This concentration of accidents occurs because we go back to our responsibilities and daily routine too fast". Also says "This fast life we are into, we us almost behave in automatic pilot, making bad decision".
When he informed that 46% of the accidents occur between 07:00 and 8:00 am Zamora explains "We wake up worrying about many responsibilities (kids, homework, meetings, etc.). This change in the afternoon where the statistics are low.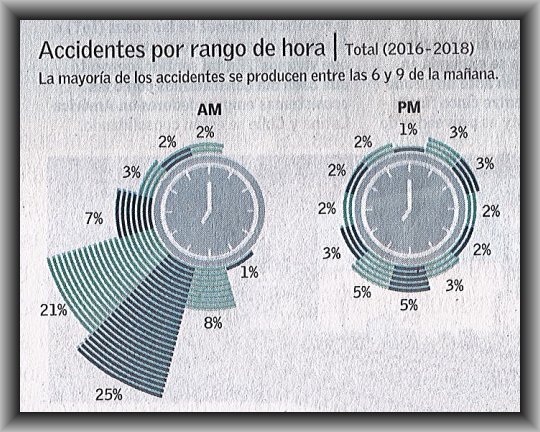 Women lead the issue
Ernesto Evans, President from the Mutuality Association says, something punctual happens in accidents at work. He said "Man accidents happen more often at the office or at site jobs, while women accidents are commuting accidents".
"Women has so many things to do, they have something called double-presence and at the end is dangerous for them", emphasize Evans.
The AChS (Chilean Security Association) says, "When women walk, especially on high heels, are highly exposed to fall down. Sidewalks need be urgently repaired to reduce falls".

Women lead on metro and taxi accidents, but man lead on high speed transports accidents (motorcycle, vehicles and bicycles). This is how 56% of the crush accidents are caused by man.
Accident geographically concentrates depending on the population density, which is related with regions. The Metropolitan, Biobío and Valparaíso regions are the most affected with a 70% of the commuting accidents.
Lack of inspection, a problem to decrease accidents
According to the President of the Mutuallity Association, the problem is that "no one's cares" about the increment or fall of the commuting accidents, even when a 64% of fatal accidents were reported in 2017.
When the employers have to report an incident at work, also increase the accident rates, which demands additional costs in fine and regulations, but companies try to avoid them (jobs safety, train worker etc.).
"So when I say "no one's cares" I am making reference to the employers rate, which is irrelevant when a worker report a commuting accident" explains Evans.
This is why the AChS has done an alliance with the Waze app in order to give alerts to users when they are around 400 mts. of areas with highest accident risk. These areas have been delimited under historical accident rates. Some of these places are Plaza Italia, the 14th bus stop of Vicuña Mackenna Avenue, Las Rejas with Alameda, Matta avenues and Providencia-Apoquindo neighborhoods.

Motorbike accidents have the longest medical leave
Although most accidents happen when the person is just walking, the ones related to two-wheels vehicles need more medical leave time, 44 days average. (See infographic)
The sub-manager from Preventive Progress and Planning from AChS, Ricardo Zamora, explains that the severity of these accidents is due to the physical motorbikes' drivers' exposition.
Zamora says "Consequences from a motorbike or bike accident are more severe and precaution must be higher"
Crushes.
Crushes are the main cause of accidents in man. 44 days of medical leave is the average quantity for motorbike workers, while 29 days for bicycle workers.
Commuting accidents in subway are the ones with less days of medical leave.
More in SeguridadExpo 2021
More
Information
National Sales
Margarita Vasquez
+56 9 71354534
Head of International Sales
Marcos Castro

FISA GL-events Chile
+56 2 25307005
+56 9 30129255